Royal School - Phu Lam Campus launches a new Integrated Program with an attractive offer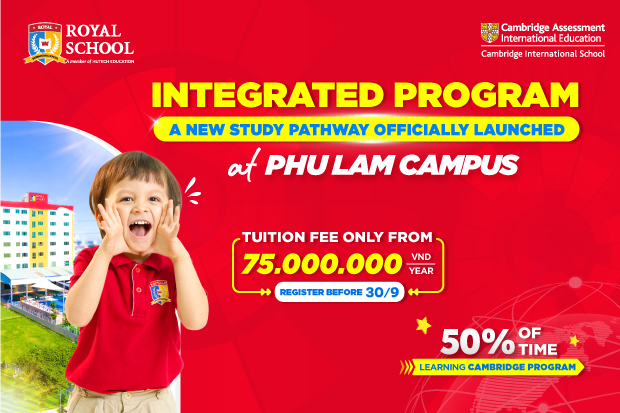 Seize the opportunity to study Integrated Program with the tuition fee of only 75 million VND in an international bilingual school
In addition to the Bilingual Program, Royal School - Phu Lam Campus has just launched an Integrated Program with an attractive tuition fee of only 75 million VND per year for all years of education at school.
The Integrated Program will be officially included in the new education program of Royal School – Phu Lam Campus, starting from September 30th, 2023. The program covers:
MOET program (under the program of the Ministry of Education and Training);
Cambridge program includes 20 English periods/week. In which, 10 periods learning with foreign teachers (4 to 6 periods learning with native teachers).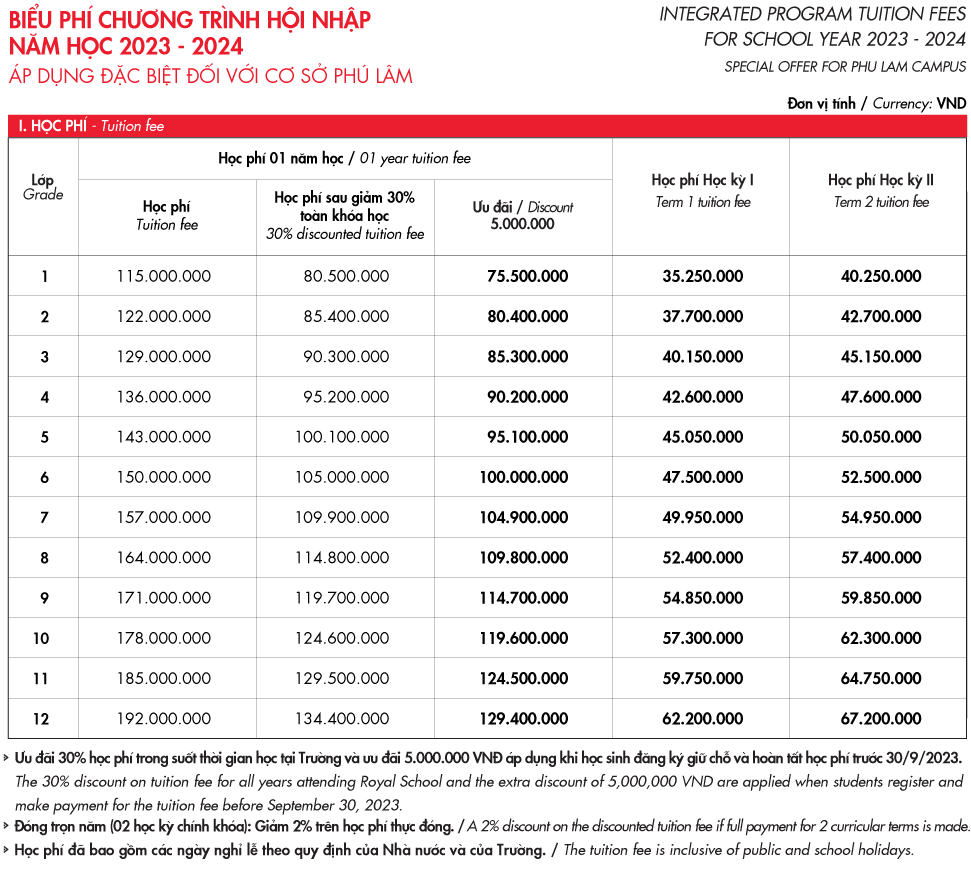 Students will receive a 30% discount on tuition fee for all years of education at Royal School and the remaining tuition fee after discount is only from 75,000,000 VND/year
The curriculum is harmoniously combined between the MOET Education Program and the Cambridge International Education Program for the subjects such as Science, Maths, ESL, and Global Perspectives. The Standard Integrated Program will help students develop comprehensively 4 skills of English including listening, speaking, reading and writing at the primary education stage.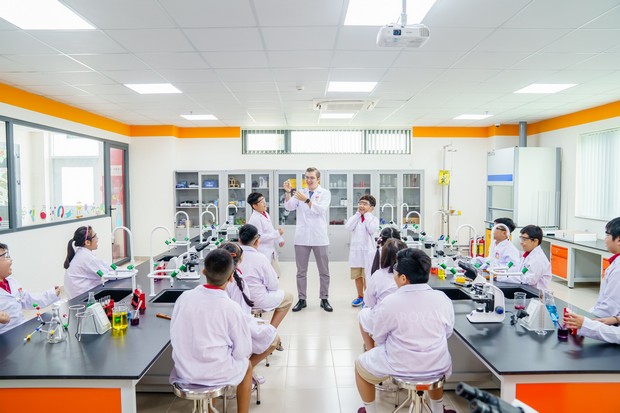 The Standard Integrated Program will help students enhance English competencies, become proficient in academic and communicative English, and familiarize themselves with the international environment from an early age
The Integrated Program at Royal School - Phu Lam Campus also opens up the opportunities for students to study and develop essential skills for global integration in an international environment.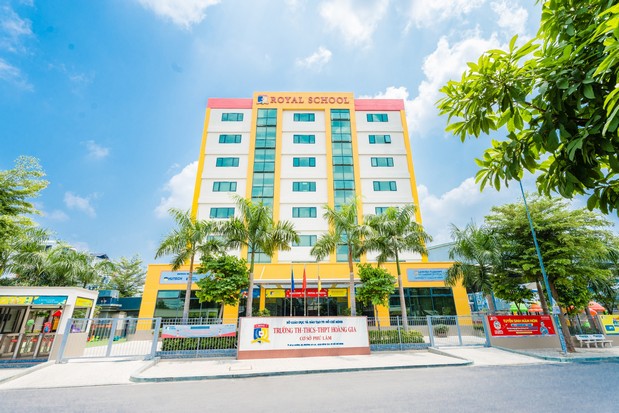 Royal International Bilingual School - Royal School is one of the leading Cambridge international schools possessing modern facilities in Binh Tan district
Students will be able to take the IELTS exam of 6.0 - 6.5 band after completing the program or switch to the International Bilingual Program to sit for the international exams such as IGCSE, AS/A Levels, etc. With these globally recognized certifications, students will have more opportunities for admissions to the universities or studying abroad.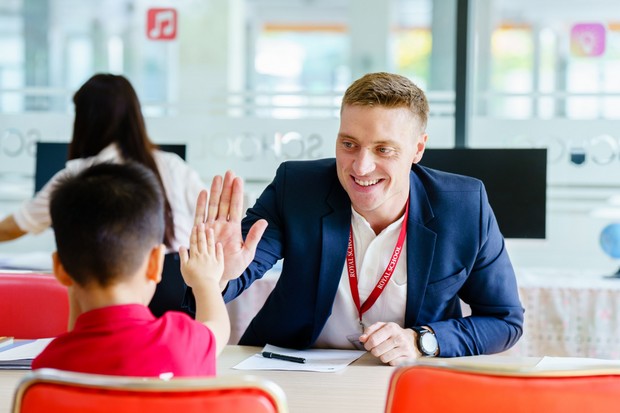 Royal School - Phu Lam Campus is proud of having a team of highly qualified and experienced foreign teachers
Integrated Program with many new and interesting subjects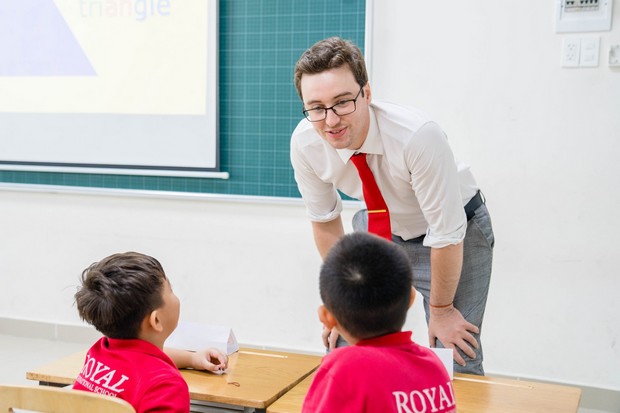 Royal School - Phu Lam Campus offers 30% discount on tuition fee in all years of education for students enroling in the Integrated Program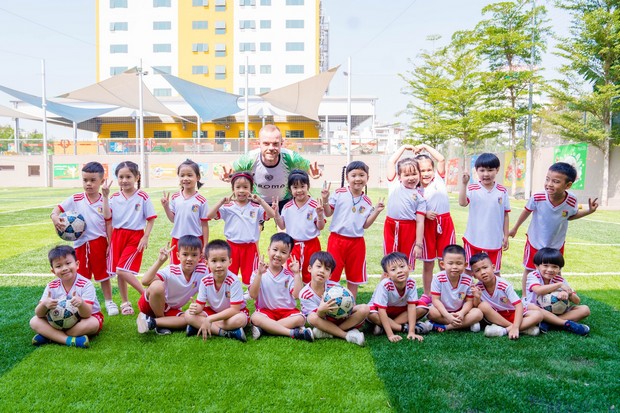 Students always have the opportunity to interact directly with foreign teachers through fun learning activities and field trips
With the outstanding advantages of an international bilingual school such as word-class facilities and high quality education, Royal School has been trusted and chosen by a large number of parents as a companion for their children's learning journey. Parents are invited to register before September 30th, 2023 to receive a discount of 5,000,000 VND.
For more information, please contact:
Royal International Bilingual School - Royal School:
Email: royal@royal.edu.vn
Website: www.royal.edu.vn
Phu Lam Campus: 02, 2D Street, An Lac Ward, Binh Tan District, HCMC
Hotline: (028) 71.016.669
Phu My Hung Campus: 08 Dang Dai Do, Tan Phong Ward, District 7, HCMC
Hotline: (028) 71.007.878
Admissions and Marketing Centre